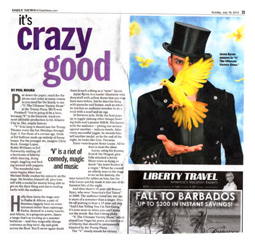 ATLANTIC CITY -
"V" : The Ultimate Variety Show"
offers the definitive homage to
an entertainment style that
has become scarce.
EXCERPT
The most amazing thing about "V," (which is performed at Trump Plaza Hotel and Casino to Sept. 5) is that despite the fact we live in the iPad and Xbox era, a show full of jugglers, ventriloquists, magicians, dancers and singers could be so darned entertaining!.
"V: Atlantic City" won't win any technological awards for its amazing production techniques and visuals, but that's kind of the point. Put a bunch of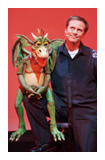 talented individuals on stage, charge an affordable ticket price (all tickets under 50 dollars) and people will walk out the theater doors happy.
The headliner of the night is worth the price of admission himself. "V" bills ventriloquist Ronn Lucas, another Vegas staple, as the ultimate ventriloquist, and the producers are not exaggerating. Whether operating his dragon Scorch or the cowboy Buffalo Billy, Lucas' humor is most effective, particularly when he improvises with the crowd.
Lucas using his dummy, Scorch the Teen Dragon gleefully attacks a Jersey Shore town as being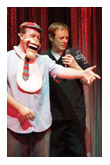 so dumb "the town hooker is still a virgin". When he coaxed an elderly man onto the stage to act as a living dummy, the audience member turned the tables on Lucas. However, the wily Lucas quickly made it into one of the funniest bits I've ever seen.
Lucas' ventriloquism abilities that make him amazing to watch. Lucas, who has performed for numerous American presidents, the Queen of England and even had his own U.K. series, not only doesn't move his lips, but he's able to do tongue-twisting singing duets with his puppets. He has such great technique the volume of the puppets' voices will lower when they turn away from the microphone. It would be fun to see Lucas return to Atlantic City with his own full-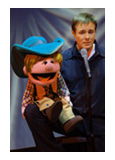 length show.
Press of New York Daily News Group: Subscribe Now e-EditionSubscriber Services Online / Photo Store Careers at The Press / Parade Magazine / News Daily / Email Newsletter © 1970-2010 NYDaily News